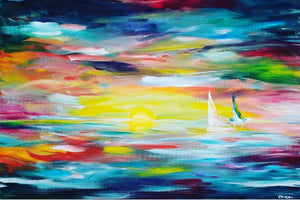 Devora Rhodes
Set Sail
Regular price
$750.00
$0.00
SOLD
If interested in this painting, custom commissions are available.
24"x36"
This painted was done Montzie Shabbat after my brothers Bar Mitzvah I had spent the whole weekend with my family and after such a pleasant time, all this beautiful color just flew out of me.
There's something so free and careless about this piece that comes from a very happy and free place inside. Some people can paint when they are in a bad mood. For me painting is a very happy or relaxing experience, and this is an extreme example of that.
---
More from this collection