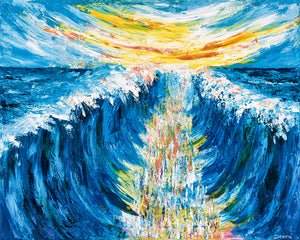 Devora Rhodes
Kriyat Yam Suf
Regular price
$1,000.00
$0.00
SOLD
If interested in this painting, custom commissions are available.
24"x30"
This painting is a commission, which means I painted it at the specific request of a client.
They approached me with a concept. Although the basic idea of Kriyat Yam Suf is very straightforward, the client challenged me to somehow make it  unique. This vague goal was extremely exciting, I loved playing with all the color, composition, and texture throughout the process. Once I sketched it out the painting process took a second, or atleast what felt like a second.
This painting was done with a pallet knife. The strokes are much rougher and tougher just like waves, with the canvas texture still very visible. Because of all the texture this painting more so than others can not be done justice through a picture.
I felt nervous painting this painting, I did not know how I would be able to capture one of the greatest and most spectacular miracles of all time. I am beyond thrilled with how this came out, it shows enough for you to see what is happening but their is enough abstract for you to come to your own conclusions as well.
---
More from this collection