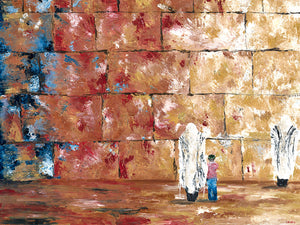 Devora Rhodes
Father And Son At The Kotel 36"x48"
Regular price
$1,400.00
$0.00
36"x48"
The bond between a father and son, parent and child, is unlike anything else. They say a child hero worships his father. As a teenager, he thinks his parents don't know anything, and when he finally becomes an adult he then realizes how intelligent his parents were. I never went through that middle stage. I never stopped hero worshiping my parents, and now that I have my own family I realize how brilliant they are.
Parents have an unbelievable influence on their children, a father taking his son to the kotel, showing him where the Beit Hamikdash once stood, explaining to him how millions and millions of jews stood exactly where he stands, davening to the same G-d, will never leave him.
---
More from this collection