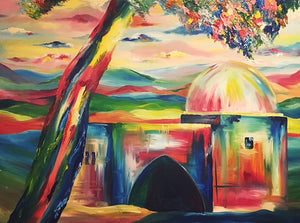 Devora Rhodes
Kever Rochel
Regular price
$1,200.00
$0.00
SOLD
If interested in this painting, custom commissions are available.
30"x40"
The colors in this piece just flew out of me. I love how rich and vibrant the colors are, and not muted in the slightest. I don't know if I can ever paint a muted Kever Rochel.
As jewish people Kever Rochel has so much meaning for us. Rochel Emainu was able to daven for us and have her tefillos answered. Every time I paint Kever Rochel I feel as if I am crying out to Mama Rochel again to daven for us.
---
More from this collection