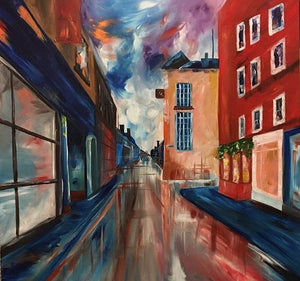 Devora Rhodes
A Perfect Street
Regular price
$1,200.00
$0.00
SOLD
If interested in this painting, custom commissions are available.
36"x36"
Perspective is one of the first art concepts I learned. It is one of my favorite things to doodle, to paint, and teach. There is something to satisfying about having strict rules to follow and balancing that with all the color and originality I can put into it.
I know roughly how the painting has to go for it to make sense, but I love seeing how the paint and color, the brush work and texture transform a structured art concept into something so exciting and unexpected.
---
More from this collection